The History of God's "Alternate" Community
The Promise of God's "Alternate" Community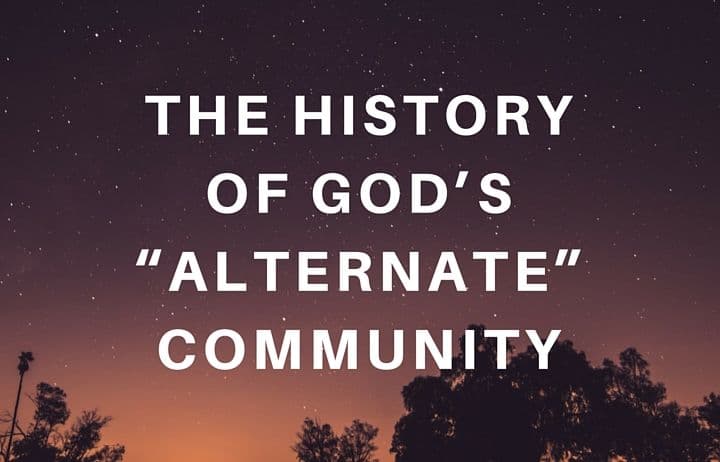 The History Of God's "Alternate" Community
The previous "blog" discussed God's promise of a genuine community, and was a teaching based on the text—that the Christian faith is utterly different from "religion", and thus, a community of Christians is entirely counter to a community of "religious" people. When Jesus calls you, He calls you into a new community—an "alternate" community. St. Augustine, one of the greatest theological influences of early church history notes that Christians are to become an "alternate city" within a city. You are a citizen of a new nation—founded on the Gospel. The history of the church, then, points to several real implications that are applicable for believers today:
You Belong To A New "People"
In Exodus 19:1-6, God reveals that He "carried" His people to rescue; they didn't just escape from slavery on their own. Throughout the Bible, God proceeds ahead of His people as He leads them. He went before them in the Exodus. He, again, proceeds ahead of them to Zion. In the Gospel accounts, Jesus also tells His disciples that He would go ahead of the disciples to meet them in Galilee after the resurrection. What this immediately should tell you is this: throughout man's history, and even throughout our own personal experiences, God isn't just present—He goes before us, preparing the way for us. We belong to Him—we are His people, and the sheep under His care (Psalm 95:7). Christians are part of an "alternate" community, sure, but one that is held fast and secure by the grace of God through Jesus Christ.
You Belong To A New "Society"
Look to Acts 2, Luke's "other" written account of the Lord's work to build His church after the resurrection of Jesus. Acts 2 reveals an exciting, revolutionary truth about genuine community. If the first Pentecost was experienced at Sinai in Exodus 19, where God brings His people to make them into His nation, and gives them His Law, Acts 2 teaches about the glory of the post-resurrection Pentecost, where all of Jesus' disciples were gathered to receive the Holy Spirit. Although many people try to emphasize the notion of "tongues" that came to rest on each person (Acts 2:3-4), followed by the people speaking in other languages, I believe that that aspect of the passage is over-emphasized to the point of distraction from biblical truth. We miss the point when we emphasize the "speaking of tongues" as the major "event". I believe the event itself, rather, was more a re-affirmation of Jesus' extended calling and mission. Remember the Great Commission? Jesus commands, "All authority in heaven and on earth has been given to me. Therefore go and make disciples of all nations…(Matthew 28:18-19)." At the Pentecost soon after, the disciples receive the Holy Spirit as they proceed to go boldly to the ends of the earth to advance the Gospel. The "speaking in tongues" in Acts 2, thus, represented the many "nations" that the disciples were called to advance. Christians are personally called, but brought into a new community to advance God's Kingdom. Whereas the first Pentecost experience in Exodus 19 required Moses to go up the mountain to brave the fiery presence of God and bring the Law, the Pentecost in Acts 2 no longer needed such a "Moses"; Jesus was the "greater" Moses who went up another mountain called Calvary to brave the true fiery wrath of God, and was consumed. No other mediator was necessary for the disciples in Acts 2, therefore. Rather, the Holy Spirit of God would come to rest on each disciple, affirming each of their callings to go to the ends of the earth, to fulfill the Great Commission. What a revolutionary moment! Common people were called to advance God's amazing work of renewal on earth; this is the new "society" that is the church. We, the redeemed, are entrusted with the Lord's work as builders of His Kingdom, and the work is not dependent on our success and merit, but on Jesus' success, merit, and rule— "all authority in heaven and on earth has been given to [Jesus]." We are called on this mission as one body. We are an interdependent fabric that is woven in and out, deeper and beautiful. To be saved by Jesus is not just an individual cleansing, therefore, but to be woven into this true "fabric" of God. All other communities are a mere shadow of the truth. The world today asserts, "Create your own self-image! It doesn't matter what others say about you," in an attempt to improve your self-image. Unfortunately, it's untrue. It does matter what others say about you. Try proving to yourself and to others that what others say about you doesn't influence you. It's impossible. You will never be able to forge an identity without other people speaking into you, and without their relationships with you. Relationships do matter. No one out there forges an identity without thinking about the values of other people around them (either out of a desire for approval, or out of a desire to rebel). The truth is, we all need people to influence and shape us; we can't escape that. God uses that! This is why we are called to go and make disciples—the very nature of the Great Commission is built God's work through the body of Christ influencing and shaping others. Have you ever seen the movie Shawshank Redemption? Why do the prisoners, who have been in jail for years and decades, abhor solitary confinement? Even prisoners who have been locked away for decades cannot live without the relationships they have within. Without people to rejoice with, your accomplishments mean nothing. Try to talk about your accomplishments in a vacuum; it is impossible to take joy in what you did without a listening ear. We all need to provide feedback into other people's thoughts every bit as much as we need others' feedback into our thoughts. Jesus says you can only experience the true joy of accomplishment first, and only, through Him, and then through a community of people who are like you—in that your relationships with Him are redeemed, and are continually being redeemed because of Him. A community of people who practice relating to one another the way Jesus intended will live life outwardly-faced, thinking for, and giving to, the needs of others around them. This results in an entirely new "society", founded on different values than the rest of the world. It's what makes the church powerful and real—because it is completely unnatural, and must only depend on God's provision of grace for its growth and unity. And God is gracious to provide richly and abundantly for His church. And it is my prayer that He will continue to sustain us by the same grace and mercy that has been sufficient for His church for centuries. We invite you to partake in, and become a part of, these gracious promises and blessings.
Invitation To Visit Our Community
If you are interesting in learning more about our values and vision for city, please feel free contact us. We would be happy to meet with you in-person, and we look forward to sharing more about the exciting things that the Lord is doing in our community through Metro Presbyterian Church.