Metro Stories: Brian
When one is in darkness for an extended period of time, the first exposure to the light is very painful.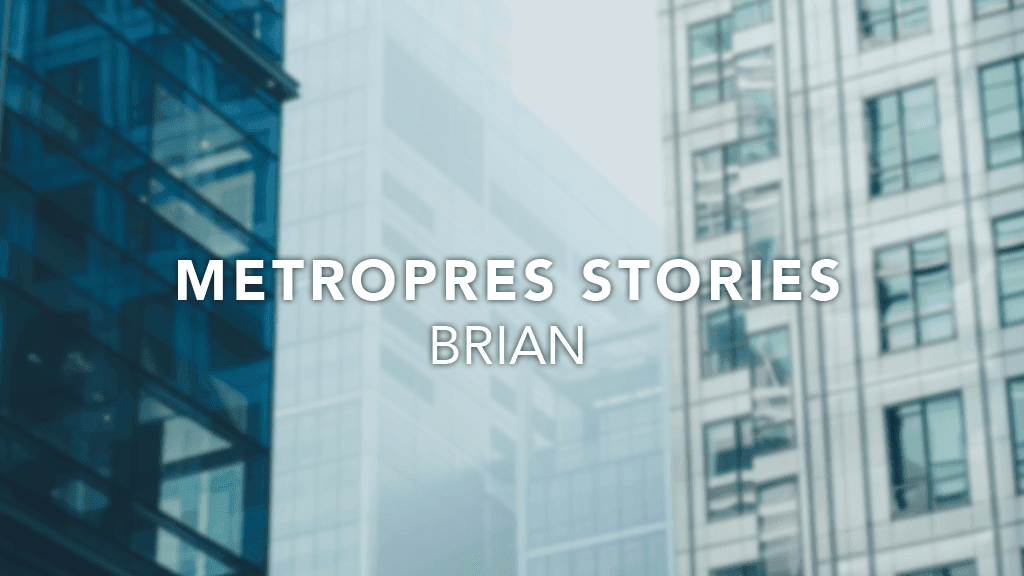 DIVORCE
When I got married in 2011, I envisioned a new life with a great family, healthy ministry, and new opportunities. Never would I have imagined that four years later, I would be a divorced man. The process was difficult. It was the most suffering I have personally dealt with. However, it was through this season of brokenness that helped me to understand the power of the Gospel and the hope that it offers.
With that said, I am not encouraging divorce by any means. My encouragement is for any broken relationship to seek reconciliation. In retrospect, I now see that God placed the divorce process in my life specifically to help me understand more about my identity in Christ. Through personal devotion to the LORD, a call to repentance, and a Gospel-centered church, the LORD began to radically lift my shame unto glory.
SHAME
One of the most difficult aspects of divorce is the feeling of shame. Ed Welch describes shame as "the deep sense that you are unacceptable because of something you did, something done to you, or something associated with you. You feel exposed and humiliated." This was exactly how I felt, knowing that I failed my marriage.
I isolated myself from my friends and church community – and with aspirations of pastoral ministry, this was my world. I was too embarrassed by my sin, my failure, and my brokenness in a community where everyone around me was married with children. I felt unacceptable because I was one of the rare cases of divorce in an Asian church context. I wanted to hide because I became consumed with wondering how others now viewed me. In self-deception, I began to think that people were trying to attack me rather than help me. Shame became my identity.
HONOR
As I hid in God's grace, there was no other option but to be wholly dependent on His counsel. Shameful isolation slowly led to private devotion. Everyday anxiety turned into moments of trusting in the words of Scripture. Blame shifting slowly led to repentance of my sin and failure as a husband. In this process, the shame I experienced was slowly lifting off of my head.
Hope became a reality during my divorce when I realized that there was someone else that experienced the painful effects of separation. On the cross, Jesus Christ lost His most important relationship – the relationship with God the Father. Jesus Christ experienced the ultimate separation: He experienced the deepest shame so that I may be crowned with the highest honor. My external circumstances never changed. The only difference is that although I may still be legally labeled as divorced, through the Gospel, my true identity is in Christ alone.
COMMUNITY
As I started to see the Gospel work through my brokenness, God revealed to me how much I needed a community in this process. Community urged me to not be silent about my shame. As I began to build deeper relationships at Metro, the church became a safe place where I had people pray with me, encourage me, and at the same time challenge me of my idolatries. I am thankful that God placed Metro as a means of grace in my life – the church became a resource of comfort, counsel, and encouragement.
With that said, the healing process from divorce was not easy. When one is in darkness for an extended period of time, the first exposure to the light is very painful. However, it is only through the light that one understands how much darkness one is truly in. Ephesians 5:11-14 says, "Have nothing to do with the fruitless deeds of darkness, but rather expose them. It is shameful even to mention what the disobedient do in secret. But everything exposed by the light becomes visible—and everything that is illuminated becomes a light. This is why it is said: Wake up, sleeper, rise from the dead, and Christ will shine on you." If you are currently dealing with shame, may the light of the Gospel shine into the darkness and bring you into repentance, healing, and renewal.