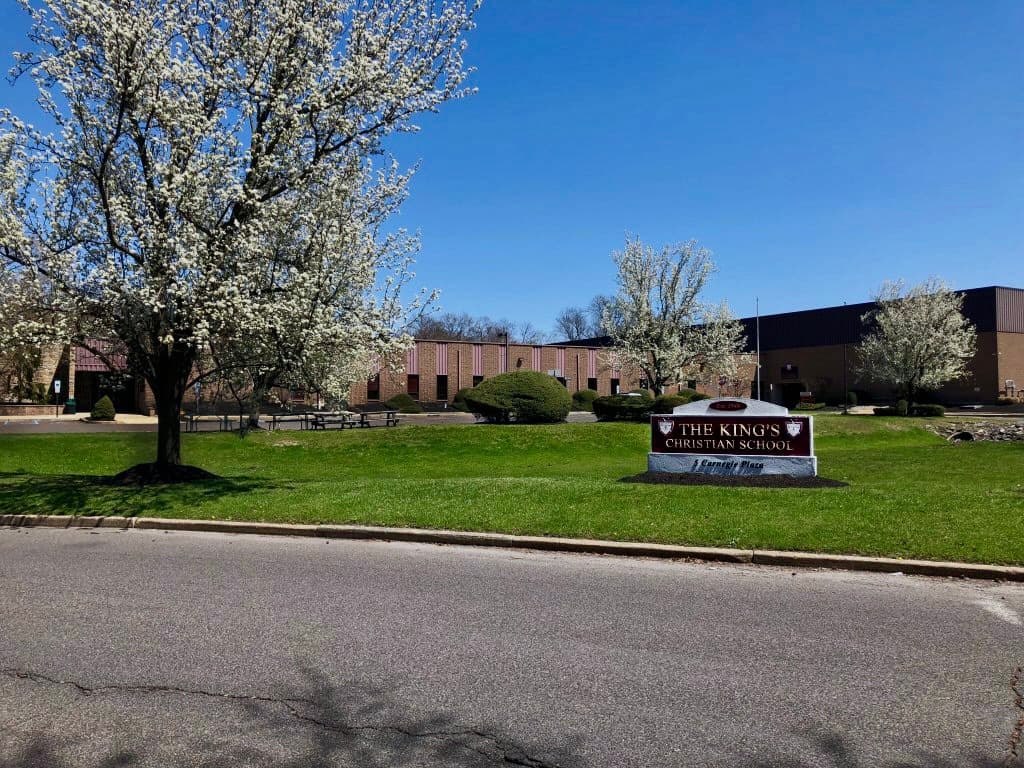 Cherry Hill
Address
5 Carnegie Plaza
Cherry Hill, NJ 08003
Get Directions
Thank you for exploring Metro's Cherry Hill campus online!
Launched on June 19, 2022, Metro's Cherry Hill campus enables a deeper, more intentional focus on gospel renewal toward a specific region; we believe this makes it possible for more intimate worship, relationships, and care—leading to lives transformed, equipped, and mobilized for works of service. Join us at King's Christian School this Sunday to explore the richness of faith, community, and movement in Jesus Christ!
What to Expect
We hope this guide will help prepare you for a visit to our Cherry Hill location. On any given Sunday, each service has a presider that leads the congregation through various elements of worship. A worship team with contemporary instruments leads a time of live worship, followed by a sermon (and communion on a regular basis). Once the service ends, you'll be able to connect with our leaders and others attending the service.
Our Children's Programs

Children and Toddlers

The 4:00 PM service provides a full program for young children and toddlers, where children will be checked in prior to service, and will be checked out after service has concluded.

Our Nursery

Infants and Parents

The 4:00 PM service provides a nursery available for newborns, young toddlers, and nursing mothers.

Our Dress

Casual and Welcoming

The overall atmosphere is casual and open to everyone. We do not emphasize any form of dress code, but request that all participants maintain a respectful sensitivity to others, since worship is both personal and corporate in nature.

Our Worship Style

Historical and Contemporary

Worship at Metro consists of a blend of Gospel-centric historical and contemporary forms of lyrics and melodies. Our music is intentional—to engage the whole person to hear the Word of God and respond to it.

Our Liturgy

Experiencing Gospel Renewal

We have an online bulletin that explicitly details the order of our worship each Sunday. Each "stage" or "function" of our worship consists of various cycles of celebrating and experiencing the gospel.

Our Preaching

Hearing God's Word

We desire to engage our congregation weekly through biblical preaching and counsel. Each Gospel "Lesson" ranges between 30-40 minutes. Our teaching is centered around the Person and Work of Jesus Christ; through it, you will learn what it means to live a transformed life, as God's Word engages our heart's deepest affections.

Volunteers For Worship

Serving God's Kingdom

We believe that serving in a ministry or fellowship goes beyond the performance of a task in itself, but more about plugging into the "life" of the church.
Parking Zones
We hope this guide will help with your Sunday morning parking experience
Front Lot

Flat terrain towards Metro

This lot is the closest to the main entrance. There are many Disabled Persons spots available, and the spots marked "reserved" are okay to park in!

Main Lot

Flat terrain towards Metro

Parking spots closer to the building fill up quickly here on Sunday.

Overflow Lot

Flat terrain towards Metro

While this lot is the furthest from the entrance, it has the most availabilities on Sunday.
Connect with Cherry Hill
We'd love to help you get plugged into our congregation!