The Foundation of Worship Part II: Worship Gone Awry
Worship Gone Awry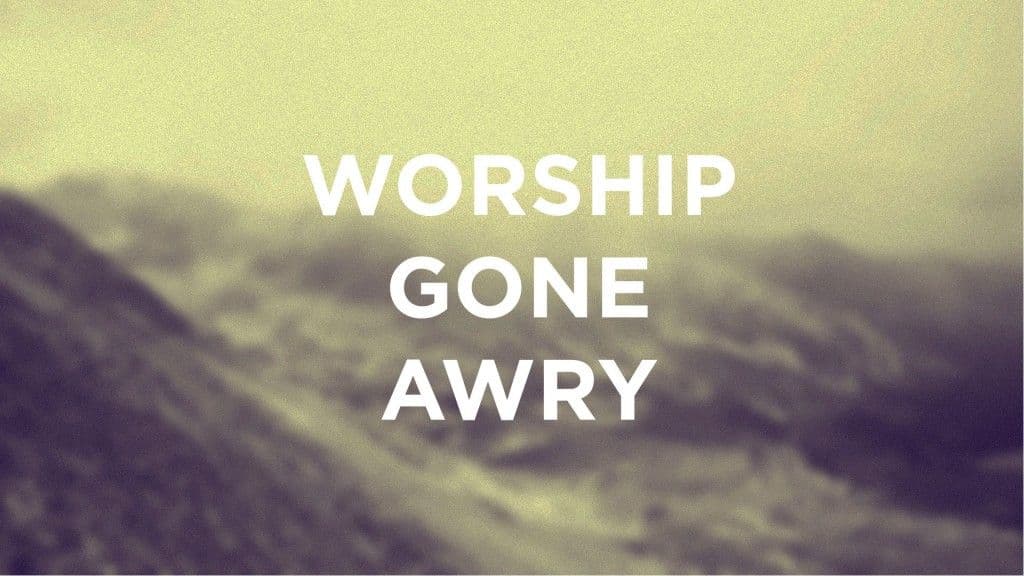 This is Part II of a three part series titled The Foundation of Worship. In this series, we will identify what true worship is (Part I), diagnose the problem of idolatry (Part II), and present the lasting cure (Part III).
"From this we may gather that man's nature, so to speak, is a perpetual factory of idols…Man's mind, full as it is of pride and boldness, dares to imagine a god according to its own capacity; as it sluggishly plods, indeed is overwhelmed with the crassest ignorance, it conceives an unreality and an empty appearance as God." —John Calvin, Institutes, 1.11.8
Looking Back
In Part I, we identified worship, or "worth-ship", as the act of ascribing utmost worth to someone or something. We also recognized that the act of worship is constant, not just Sundays or during a personal quiet time. We are always worshipping something that will give us worth, satisfaction, and even a sense of being loved. Read Romans 1:18-25.
Worship Gone Awry
In an important letter to a city of such great influence, Paul begins by offering a stern warning against idolatry. In verses 21-23 he writes, "For although they knew God, they did not honor him as God or give thanks to him, but they became futile in their thinking, and their foolish hearts were darkened. Claiming to be wise, they became fools, and exchanged the glory of the immortal God for images resembling mortal man and birds and animals and creeping things." The root of sin is to "have other gods before" the one true God which is, in essence, idolatry. It is the failure to value God above all things so that He is not given utmost worth and honor. In this letter, Paul describes idolaters as fools, not intellectually, but in their rejection of God as Lord over their lives. As a result, their lives become futile, incapable of producing any useful result. Now, it sounds pretty awful to be a fool but the truth is, Paul is writing to us. We are fools. John Calvin described the heart as being a perpetual factory of idols. It is constantly churning out new and creative ways to find worth and love in created things. Even though we KNOW God, we fail to experience and apply His saving grace to our everyday lives. In every moment of every day we are tempted to disregard the perfect life and death of Christ crucified and instead turn to the "created things" instead. Thus, we spend our lives oscillating on a fine line of unbelief, weaving in and out of trusting in the Gospel vs. trusting in our idols. When we place our worth, love, and approval in "created things", we are essentially setting ourselves up for failure. "Created things" are also finite and variable things—things that will change or die out. Thus, our lives are built on a weak foundation. We become fearful of losing our idols so we'll do whatever it takes to keep them built or appeased. We'll work hard to keep that GPA, to please our bosses, to keep our children happy, to satisfy our relationships. All because our worth is being given and received from the wrong source—all because our worship has gone awry. When we place our worth, love, and approval in Jesus, we cannot lose. Truth is, Jesus worshiped perfectly. He KNEW God. However, we see on the cross that it was Jesus, not us, that was treated as a fool, as if He lived a useless and futile life. On the cross, the heart of Jesus was darkened. He cried out to God yet received no answer. The one person in whom Jesus had found worth had been cut off from him. Why? So that you and I could have and experience that kind of love—that kind of worship. Our lives that were destined for failure can now be fruitful. It is my prayer that we as a community continue to challenge ourselves everyday, in everything, to see if we are truly living a life that is centered on the Gospel. Are you willing to re-evaluate where you stand and challenge how you are living? When the gospel becomes the central source of worth and love, our lives will slowly become more restful and full of hope.
"For God alone, O my soul, wait in silence, for my hope is from him. He only is my rock and my salvation, my fortress; I shall not be shaken. On God rests my salvation and my glory; my mighty rock, my refuge is God. Trust in him at all times, O people; pour out your heart before him; God is a refuge for us." —Psalm 62:5-8