Who Is Evan Kane?
Who Is Evan Kane?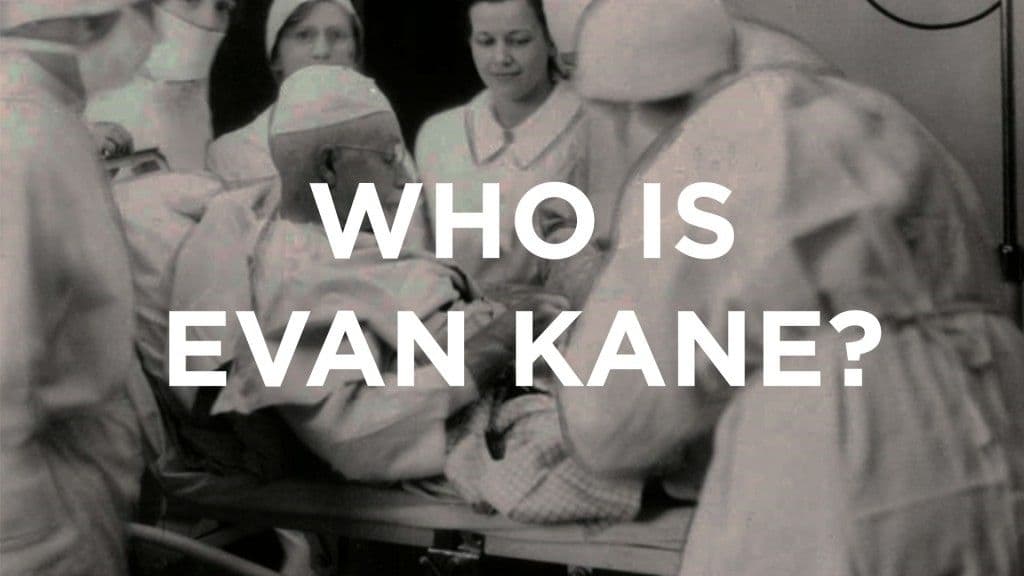 "If a willing Victim that has committed no treachery is killed in a traitor's stead, the Stone Table will crack; and even death itself would turn backwards." (C.S. Lewis, The Lion, the Witch, and the Wardrobe)
Pioneers of Science and Medicine
When we think of pioneers in science and medicine, we revere Marie Curie—the first woman to win the Nobel Prize; we honor the works of Louis Pasteur—and his efforts in bacteriology. But, how many of us have ever heard of Evan Kane (incidentally, a graduate of Jefferson Medical School in Philadelphia)? Evan Kane, prior to the efforts, which awarded him the notoriety for which this blog was written, was already well known for advances in medicine, and in fact, with his family, founded Kane Summit Hospital in Pennsylvania. Up until his time, all surgeries were performed under general anesthesia—in other words, any type of surgical procedure required the patient to "go under"—at great risk to the patient for even minor surgeries. Evan Kane, however, had a theory—he believed that the application of a local anesthetic, such as Novocain, which could be applied to a localized region where the operation was required, would be able to reduce the risks and potential suffering experienced by the patient during the surgical procedure while the patient was wide awake. Simultaneously, the potential risk of "losing" the patient due to the use of general anesthesia could be averted as well.
A Willing Patient
The problem—what patient would be willing to serve as a test case? Who would be willing to risk potential harm, excruciating pain, and possible death, for the sake of scientific and medical advancement? Clearly, there were ethical, medical, and possibly philosophical concerns that would prohibit any such experimentation today without intense scrutiny. Nevertheless, Evan Kane put out a request for a willing patient—as he had successfully completed 4,000 times previously, he would perform a routine appendectomy on his patient—this time, however, using local anesthesia; that is, the patient would be awake throughout the duration of the surgery. As expected, there were no takers—at least, not in the first several weeks since recruitment began. Some time passed, and Evan Kane finally found one willing participant. The incision would be made in the lower abdomen, and was to be considerably larger than it is today (age-old technology). The anesthetic would be applied prior to the incision. The appendix would be removed; the wound treated, and if all went according to plan, the patient's recovery period would be reduced to within the day. The rest of the medical community, of course, balked at this "impossibility". Evan Kane's reputation as a doctor, a surgeon, and as a humanitarian was at stake. He prepped the lone, willing patient in the operating facility, and after only a few short hours, successfully removed the patient's appendix, fully awake, using local anesthesia to discharge the patient with a few additional hours of bed rest that day. The patient was released with slight discomfort in the abdominal region—nothing uncommon from previous appendectomies performed under general anesthesia.
Sacrificing for Science
There were two absolutely striking features that made this experiment successful: the first, was the success of the surgery—Evan Kane had proven to the entire medical community that a patient no longer faced terminal risk under general anesthesia when undergoing localized procedures; this was the entire point of the experiment—to empower the use of local anesthetics for approved invasive surgeries. This isn't the point that made Dr. Kane famous, however; the second aspect of the surgery remarkably outweighed the first, and it's not in the nature of the surgery, or the anesthetic used, or some new technological advancement, but in the patient who volunteered. Evan Kane willingly volunteered himself to be the patient in the removal of his own appendix. No one else would serve as a suitable volunteer; no one else could. They were too afraid, not trusting enough, and lacked the knowledge to place any confidence in survival. Dr. Kane, the surgeon, thus, sacrificed himself to provide the benefit of medical advancement for the rest of humankind. He took the risk, and paid the price, so that we would not have to pay.
The Great Surgeon
That's how it works. Where man says, "Impossible," Jesus says, "I am the way." Where religion says, "You can't complete this on your own," Jesus says, "It is finished." And the Great Surgeon chose to go under the knife of God's own wrath—not risking His life, but surrendering His life—knowing He would suffer a mortal wound, so that we would receive the healing benefits of God's grace.
Thanksgiving
There are many reasons to be thankful each year; most of us do not have to bear too much thought to share reasons for thankfulness. Despite our discomforts—some very complex, we know that we experience God's grace, which is common to all people: sinners and believers, young and old, male and female, all over the world. However, to say that we experienced the Gospel is to say we are known, loved, blessed, provided for, rescued, accepted, and brought in. I am grateful to each of you—for your partnership in the Gospel, for your pursuit of Christ, for the love that the Father demonstrates through you, for your endurance through our amazing 1.5-year journey as a church body and fellowship, together. I am blessed to have such a committed, self-sacrificing staff, a faithful, vibrant leadership team, and a growing, upbeat, warm congregation that enjoys worship each week, desires to do life together, and has been enlivened by the Gospel as a part of Metro Presbyterian Church. Friends, enjoy this season of Thanksgiving—may it be richly blessed, surrounded by loved ones and friends, and may you deeply experience true reasons to be thankful in quiet moments of reflection during this season: for God's grace to us through His Son, and continued grace demonstrated to us in His Son.