The Values of God's "Alternate" Community
The Values of God's "Alternate" Community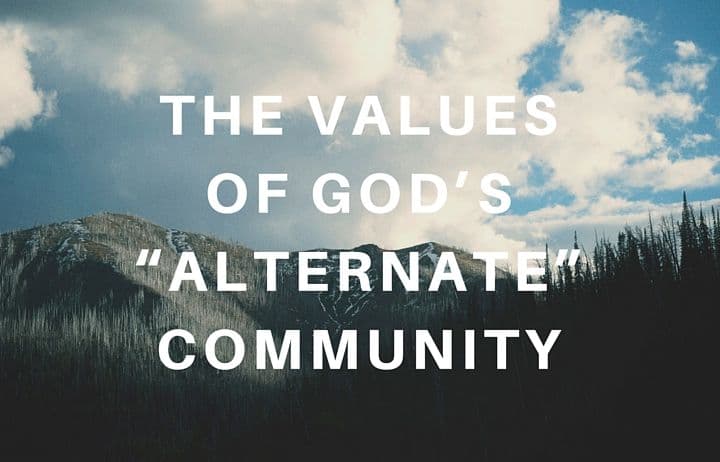 The Components Of God's "Alternate" Community (Part I)
The previous two blogs provided a background on God's promise of a genuine community, as well as the history of God's "alternate" community. As mentioned previously, St. Augustine, one of the greatest theological influences of early church history, wrote that Christians are to become an "alternate city" within a city. By "alternate", he meant that Christians are a new people and a new society—one founded on their relationship with God, based on the Gospel. What should such an "alternate" community look like? Jesus, in Luke 6:17-34, teaches us about the components of God's genuine community. God's people are characterized by two major "descriptives": the values held by the people on the inside (Part I), and the relationships maintained with the people on the outside (Part II). What Jesus is saying in this passage is this: when you become a Christian, your status with respect to God has changed; however, your character remains the same. Change is not natural, but assured, since the Spirit of God dwells in you to transform you into the likeness of God's true Son. Your character, therefore, must be reconsidered. Your values (even your good qualities) and your relationships must be reoriented.
The Values Of God's "Alternate" Community (Part I)
We see this in Luke 6:22-26, the blessings and woes taught by Jesus, which represent two sets of value systems. What Jesus is conveying: the old kingdom is giving way to the new kingdom; the old administration is giving way to a new administration. The old body is giving way to a new body. Whenever you experience the transition between two administrations, you begin with a new leader, a new "head". The leader of the new administration begins with a new team of fellow administrators, and ushers in a new set of policies or values. That's what is represented in these blessings and woes. There are four values represented in this part of the passage: richness (the center of our wealth), fullness (the center of our satisfaction), laughter (the center of our joy), and how men speak of you (the center of our approval). Jesus teaches that the old administration lived for wealth, comfort, boasting in their strength, and recognition (the "woes" in 6:24-26). However, God's new society, in 6:20-23, would be characterized by weakness (poverty), sacrifice (hunger "now"), suffering (weeping), and exclusion (rejection). If you enter into Jesus' world, the things that this world values become less important, while the things that the world does not value become more important to you over time; you begin to value what it means to be weak, to sacrifice for others, to rejoice in suffering, and to discover unity in worldly "exclusion". In the life of God's people, you experience a reversal of values. You begin to treasure that which is refused by the world. What this means is that, although you may not seek poverty or suffering, you will grow more skeptical of those things that are sought after by the world. Don't refuse worldly blessing, but suspect it. Don't seek weakness, sacrifice, suffering, and rejection, but rejoice in them. In other words, don't let worldly wealth, comfort, power, or reputations control you—God's Kingdom consists of people who have been set free from them. Imagine yourself with a high-salaried career that assures you of a great reputation and status; now, imagine that you made a critical mistake that resulted in you losing your job. Jesus, in this passage, is teaching that if you live out of the first set of values—that is, you live to gain money, or comfort, or power, or approval, you'd be absolutely devastated. However, a Christian is grateful for the blessings given to him, but if he were to ever lose these things, although he would certainly weep the loss, there is a deeper joy that brings the weeping to an end. The grief reveals that you understand reality; however, to know that you are blessed is to trust in a deeper reality. Jesus says, "Blessed are you who weep now." Not you will be blessed, but you are blessed as you weep. In most cases in life, you have weeping, which comes with a curse, and joy that comes with a blessing. In Jesus' Kingdom, however, there is weeping with a sincere knowledge of blessing, and a deeper joy in the curse. A blessedness that is impervious to circumstance—sometimes, even increased in weeping. All other "joys" demand something of you; if you don't serve them, pain results. However, Jesus' love always fulfills you no matter the suffering, and always forgives you no matter the failure. Similarly, Jesus' love always fulfills you beyond the blessing, and always accepts you beyond your success. Thus, you can weep with earthly loss, and still be joyful because of what you still have in your identity in Jesus. God's grace gets stronger when you are weak, sacrifice for others, experience grief, and are rejected by others. You would never begin to taste this without His salvation first. However, when you have a relationship with Jesus, you experience a greater wealth, a greater power, a greater victory, and a greater approval. This is a radical freedom. You may be devastated by loss, but the sadness has a definitive end; there is still joy in the weeping because of the strength that you have in His grace. This sets you up to have compassion on others. Your weakness leads you to seek others for help, and to help others. You start to mesh with others; you start to find strength in the community. I
Invitation To Visit Our Community
If you are interested in learning more about how we see Gospel values transforming our community, please feel free to contact us. The past few years have been a powerful testimony of how the Lord has been shaping our values as a community of "strangers" into a community of Gospel-founded values. We are excited to introduce you to our fellowship, and we invite you to share in our community.