The Values of God's "Alternate" Community, Part II
The Values of God's "Alternate" Community, Part II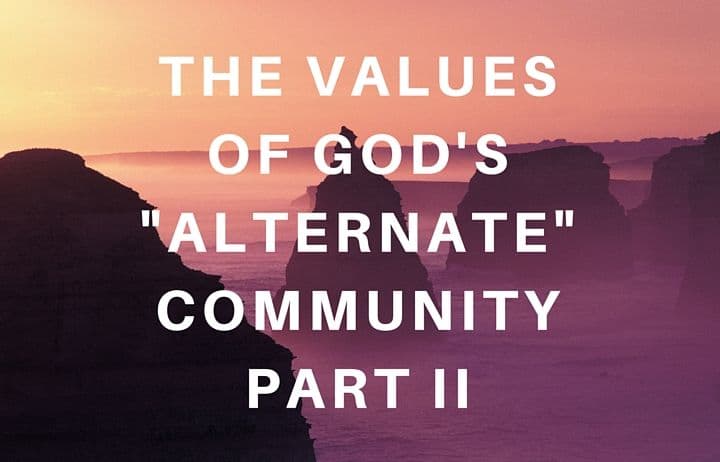 The Components Of God's "Alternate" Community (Part II)
This series of blogs discusses the topic of "community": God's promise of a genuine, "alternate" community founded upon His character, mission, and especially, His grace. The foundations of this community rest on the history of God's faithfulness to His chosen people—and are assured through Jesus' finished work on the cross—we see this in what happens at the Pentecost in Acts 2 (refer to the blog titled "The History of God's 'Alternate' Community"). Luke 6:17-34 teaches us about the components of God's genuine community. God's people are characterized by two major "distinctives": one is embodied in the values held by the people on the inside (previous blog), and the second is characterized by the relationships maintained with the people on the outside.
Relationships Within God's "Alternate" Community (Part II)
The religious do not like mixing into the world. They withdraw from people who are "worldly". The irreligious often see relationships as ends in themselves, for their own pleasure and self-fulfillment. Christians are often accused of being "intolerant" in a "global" society dominated by so many worldly ideologies. However, in Luke 6:27-36, Jesus directly addresses followers who are "intolerant", and thus, also provides an answer and promise to those who accuse Christians of being "intolerant". He teaches that those "who hear me (6:27)" have a unique relationship to the world in two utterly dynamic ways. 1. Christians pray for those who mistreat them (this comes from an inner transformation). He says, "Pray for those who mistreat you (6:28)." This is not just a radical tolerance toward those who disagree with you, but towards those who hurt you. What Jesus is saying is this: drain yourself of ill will towards those who hurt you; forgive them, and seek their good by praying for them. 2. Christians do good to their "enemies" (this comes from an outward transformation that is "hooked into" the inner transformation). In other words, once you've drained yourself of ill will toward them, you will have greater power to confront them, and your confrontation is one built out of love. You can seek true reconciliation. Don't let them sin against you; confront them by persuading them, but not out of a desire to belittle, humiliate, or hurt them at all—not out of a desire to assert your superiority over them. Most of us, when hurt by others, act out of a prideful, damaged, and vengeful heart that seeks self-preservation. Jesus says, "Once you've drained yourself of anger and ill will toward them, you can genuinely love them." How does that love look? Verses 27-31. You can do good to those who hate you. You can bless those who curse you. You can genuinely forgive and sacrifice for their sakes. You can treat them with grace and mercy. Once you've drained yourself of any superiority against them, then you will be able to approach them differently. When you have a community that practices this kind of winsomeness for the Gospel, you start to become the type of community that Jesus came to create. The one He died to create.
Invitation To Visit Our Community
If you are interested in learning more about how the Gospel is transforming relationships in our community, please feel free to contact us. A famous Christian theologian once said that the church is composed of "natural enemies". The past few years have been a powerful testimony of how the Lord has been shaping our values as a community of "natural enemies" into a community of Gospel-founded friends. We would enjoy the opportunity to share about how the Lord is bringing this community together.