Why We Are Moving to Two Services in East Falls
An Update From Pastor Donny, August 6th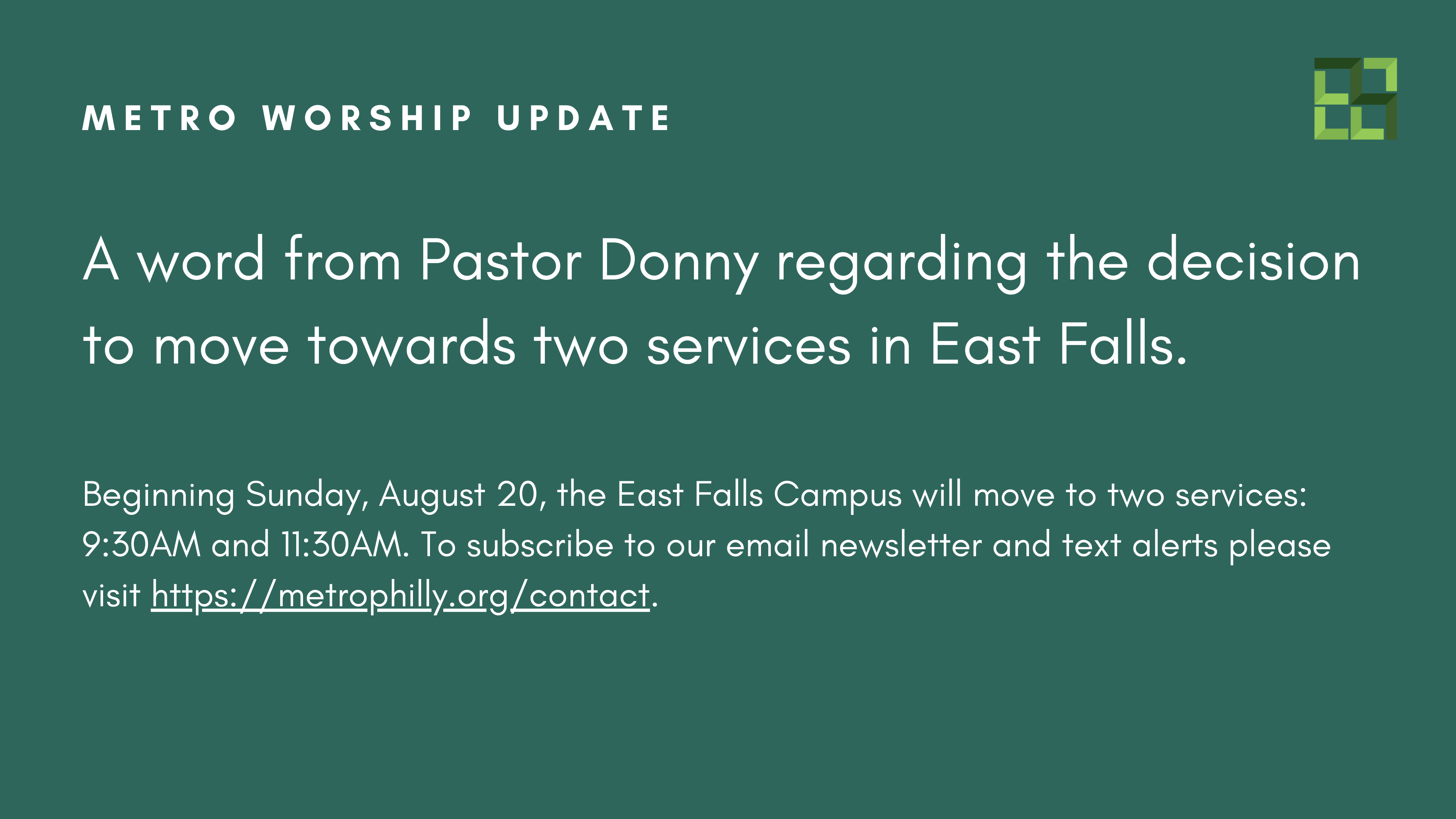 Posted by

Friends,
I have an important announcement to share with our congregations: the East Falls location at Metro will be moving to two services beginning Sunday, August 20, 2023. This means that as we near the close of Summer 2023, Metro will be holding worship services as four individual congregations:
East Falls 9:30AM
East Falls 11:30AM
Cherry Hill 4:00PM
Virtual (YouTube and Facebook) 11:30AM
What is driving the need for two separate services at the East Falls location? Please consider the following:
Gospel Mission: More worship services reach new people, residents, and commuters

. People who, otherwise, have not been able to attend a live service at Metro are now offered yet another opportunity to join a congregation. New congregations of people, in turn, can reach new people groups and generations more effectively. Each congregation at Metro consists of different types of people; all of them can be empowered much more quickly and effectively for the work of advancing the gospel. In many ways, I liken this to adding more power to an engine—replacing a four-cylinder engine with a six-cylinder engine may require more fuel in a sense (resources and/or space), but the output can also be more powerful and effective in reaching different generations of residents, visitors, the "dechurched", and unchurched people groups. This also optimizes the worship space we currently utilize at 4200 Ridge Avenue—which then fosters a renewed sense of vibrancy, movement, and mission.
Gospel Creativity: More worship services provide new opportunities for renewal of the body of Christ in various dimensions

. Adding additional services, much like planting churches, empowers the laity towards greater active service on a weekly basis. This allows for the flourishing of gifts among whole new groups of participants, the emergence of new lay leaders, and the collaboration, learning, transfer, and "cross-pollination" of new ideas. As creatures made in the image of God, our participation in worship

and

our demonstration of creative gifts for the purpose of worship are an honor to God—all the while, God's people are being renewed in this new context of worship.
Gospel Culture: More worship services provide more opportunities for gospel-shaped relationships to thrive

. New opportunities to worship together provide the training grounds for the call of Jesus to "make disciples" in the Great Commission (Matthew 28:18-20); as in church-planting, this opens up new opportunities for Christian education, spiritual formation, and mentorship. As we "renew, retrain, and rebuild" with one another in the context of a worshiping body that carries accountability, relationships built within the congregation easily contribute to the formation of distinct gospel cultures with a Kingdom-mindset that can reach various groups of unchurched, dechurched, and churched people.
In essence, every part of our church is built around a gospel-fueled engine that is passionate about new launches: new community groups, services, campuses, and the training of residents towards new, self-sustaining churches are built around a similar, missional model. As a result, adding new services are a necessary part of the healthy growth of our community as we seek to glorify God and magnify His Son by the advancement of the gospel.
I invite you to join us at either one of the new times beginning August 20. We purposely changed both service times at the East Falls (4200 Ridge Avenue) location so that both congregations can experience a sense of oneness in calling, movement, and mission as you—the congregant or member, decide which service to attend. We so much look forward to seeing you at 9:30AM or 11:30AM as we journey together in a new season at Metro.
With great excitement,
Donny, on behalf of Metro's Leadership
Posted by