Metro Stories: Andrew
I am now a firm believer that in the context of community, people change.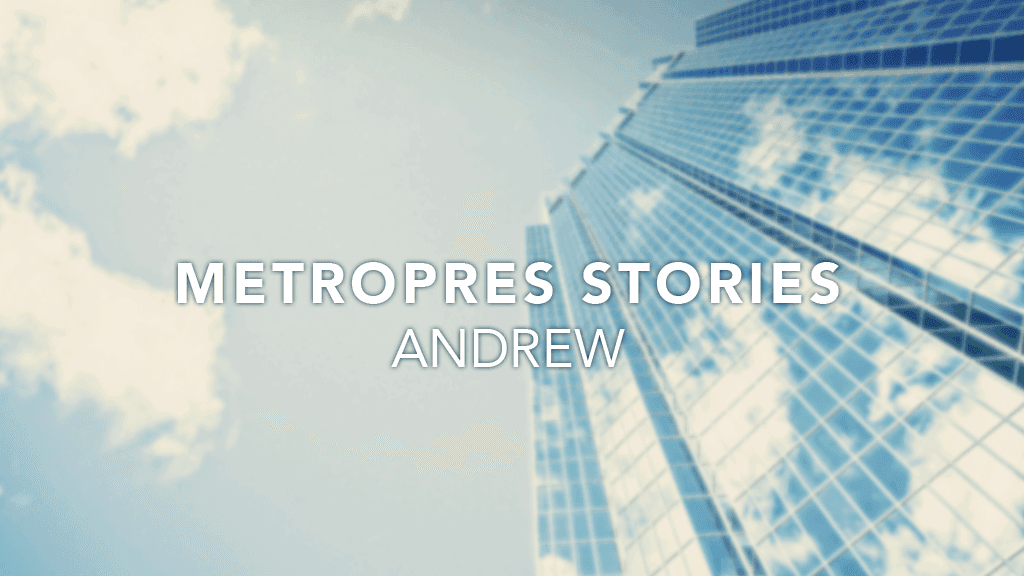 I am now a firm believer that in the context of community, people change.
It's interesting how I came to Metro because I had heard of Metro before but I never thought that I would be attending it. But then again, I never imagined having a life outside of Cherry Hill; it's all I've ever known. I was born in Philadelphia, but spent the majority of my life in Cherry Hill. I loved my church. I have spent fifteen long yet short years at that church and not a day goes by that I'm not thankful for everything that happened there. I accepted Christ as my Lord and Savior there. I met Brian and Paul, dear brothers and mentors who walked with me during my trials and tribulations. I also befriended many brothers and sisters who to this day, still keep in touch with.
Although I had many years of growth there, I eventually grew complacent. I had no one to challenge me in my Gospel understanding and living. I had no accountability and even less of a community. I grew lazy and tired. I became something I told myself I'd never be: a law-abiding Christian who does just enough to be called a "good Christian." Basically, I served and attended church because all my life that's what I was programmed to think. I didn't really care for the Gospel and I only did "Christian" things because, culturally, that was all I was taught. Now I'm not trying to say that my old church is a bad church. If I had thought that, I wouldn't have stayed there for fifteen years! The brothers and sisters I worked with and the students that I had the opportunity to do life with, were all awesome. I learned from every one of them the value of ministry and what it means to love people. I was still growing, but I was growing in the same context for fifteen years.
After graduating from high school, most people left my old church. However, many of them came back during the summer time. Every single one of them brought back a lesson with them each year. Some were good lessons; some were bad. One thing was for sure; the lessons that people brought back with them were priceless. Talking to them about life and church made me realize that I also needed to grow in a different context. I didn't want to leave, but it was time.
My first encounter with Metro was through the Cherry Hill community group. I didn't know what to expect. To be honest, I didn't even want to go. I wanted to explore and check out different churches to see which one was a fit for me. However, after the first Cherry Hill community group meeting, I wanted to go back. I was intrigued. It was very quiet. Calm. I was so used to the loud and crazy atmosphere of group gatherings that it felt weird being calm. But there was a warmth that I couldn't explain. The more I went to the community group, the more I was hooked on the Gospel; specifically in seeing everyone's Gospel-driven interactions with one another. There was transparency of flaws and at the same time, acceptance despite sin. There was sharing of brokenness but also sharing of rejoice. There were tears of sadness but also tears of joy. Most importantly, there were moments in all of this where the group understood how beautiful the Gospel is, despite everything they were experiencing. Watching this made me wonder if this is what life at church is supposed to look like. The group was far from perfect, yet I saw how God used each and every individual in that group to portray the Gospel perfectly. I am now a firm believer that in the context of community, people change. Being in a Gospel-centered community, I realized that life is not about me, but really about who is above me.
"Father, love you and appreciate you for being who you are. A loving God, merciful in all that you do. You gave up your son to be with us but the truth is, many times, we don't want to be with you. I hate to admit this but it's true. Yet, you still love us and never give up on us. That grace changed my life. Through the brothers and sisters at Metro, I've experienced an enormous amount of grace and was humbled by Your love. Thank you for your patience. Thank you for the wonderful community. Thank you for the cross that made everything happen." – Pray all this in Jesus name. Amen.