Take This Cup From Me
Wednesday Devotion — Luke 22:39-64 — "Take This Cup From Me"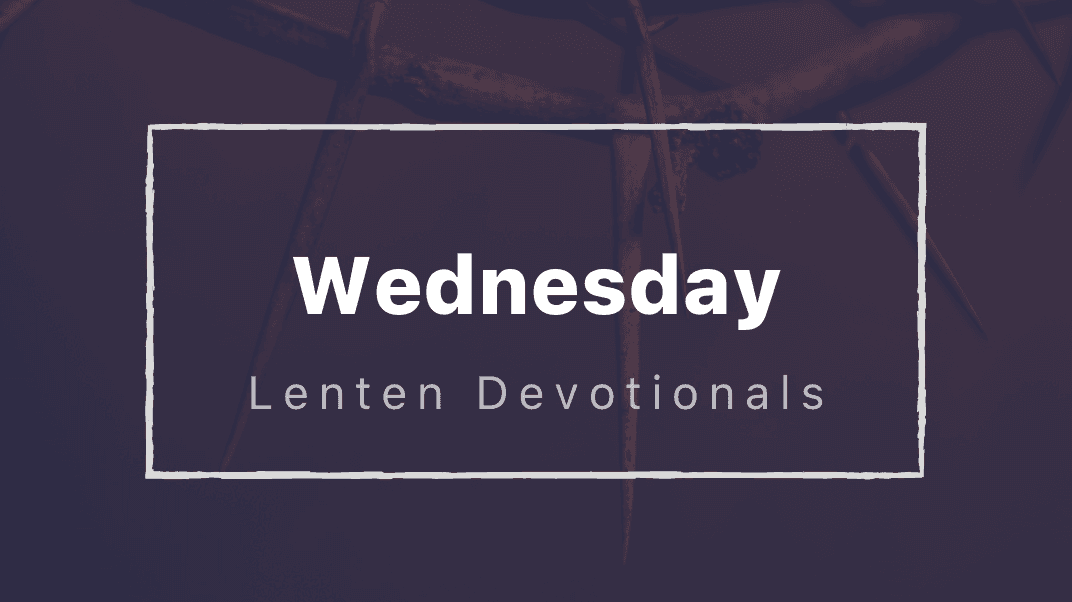 Luke 22:39-64
39 Jesus went out as usual to the Mount of Olives, and his disciples followed him. 40 On reaching the place, he said to them, "Pray that you will not fall into temptation." 41 He withdrew about a stone's throw beyond them, knelt down and prayed, 42 "Father, if you are willing, take this cup from me; yet not my will, but yours be done." 43 An angel from heaven appeared to him and strengthened him. 44 And being in anguish, he prayed more earnestly, and his sweat was like drops of blood falling to the ground.
45 When he rose from prayer and went back to the disciples, he found them asleep, exhausted from sorrow. 46 "Why are you sleeping?" he asked them. "Get up and pray so that you will not fall into temptation."
47 While he was still speaking a crowd came up, and the man who was called Judas, one of the Twelve, was leading them. He approached Jesus to kiss him, 48 but Jesus asked him, "Judas, are you betraying the Son of Man with a kiss?"
49 When Jesus' followers saw what was going to happen, they said, "Lord, should we strike with our swords?" 50 And one of them struck the servant of the high priest, cutting off his right ear.
51 But Jesus answered, "No more of this!" And he touched the man's ear and healed him.
52 Then Jesus said to the chief priests, the officers of the temple guard, and the elders, who had come for him, "Am I leading a rebellion, that you have come with swords and clubs? 53 Every day I was with you in the temple courts, and you did not lay a hand on me. But this is your hour—when darkness reigns."
54 Then seizing him, they led him away and took him into the house of the high priest. Peter followed at a distance. 55 But when they had kindled a fire in the middle of the courtyard and had sat down together, Peter sat down with them. 56 A servant girl saw him seated there in the firelight. She looked closely at him and said, "This man was with him."
57 But he denied it. "Woman, I don't know him," he said.
58 A little later someone else saw him and said, "You also are one of them."
"Man, I am not!" Peter replied.
59 About an hour later another asserted, "Certainly this fellow was with him, for he is a Galilean."
60 Peter replied, "Man, I don't know what you're talking about!" Just as he was speaking, the rooster crowed. 61 The Lord turned and looked straight at Peter. Then Peter remembered the word the Lord had spoken to him: "Before the rooster crows today, you will disown me three times." 62 And he went outside and wept bitterly.
63 The men who were guarding Jesus began mocking and beating him. 64 They blindfolded him and demanded, "Prophesy! Who hit you?"
The essence of sin can be summed up in the lie, "God does not love me," or in other words, "God does not want what's best for me." It began with Adam and Eve and continues on today. We do not pray, "Father, not my will, but yours be done." Rather, we selfishly say, "Not your will, but mine be done." This is because we believe we know better than God. In this passage, we see that even after walking with Jesus daily, Peter, one of Jesus' closest disciples, still believed this lie.Rather than trusting in the Lord, he took matters into his own hands as he cut off the servant's ear and denied Jesus three times. This reveals to us the power sin has over our lives.
Fortunately, we also see in this passage that because of his great love for us, Jesus prayerfully charged into the "lion's den" of conspiracy and betrayal, knowing that it would inevitably lead to his suffering on the cross. He did not do this without temptation. Luke 22:44 tells us that as he was praying, Jesus was in such agony that he sweat drops of blood. However, rather than forsaking the Father's will, he drew closer to him. He prayed, "Father, if you are willing, take this cup from me; yet not my will, but yours be done." When temptation came in the Garden of Eden, the first Adam selfishly failed to obey, but when temptation came in the Garden of Gethsemane (where Jesus prayed at the Mount of Olives), the second and ultimate Adam, Jesus Christ, selflessly took on the ultimate suffering and obeyed perfectly.
The Gospel tells us that the will of the Father was for his perfectly obedient Son to be humiliated and crucified. Knowing this, Jesus still obeyed the Father. Why? Because he trusted that God wants what's best for his people—so that imperfect, disobedient sinners like us can fully trust and have confidence that the Father will always work for our good. Do you see the great reversal in that? Although we deserved to die because of our daily betrayals against God, Jesus took on the rejection we deserved and the heartbreak of being forsaken by his Father on the cross as he cried, "My God, my God, why have you forsaken me?" Although Jesus deserved honor and glory, he drank from the cup of God's wrath so that we could drink from the cup of everlasting joy and unconditional love. How have you believed and lived out the lie that God does not love you unconditionally in your anxiety, pride, and desire for control? How does the Gospel reassure you that the Father loves you unconditionally?
Prayer
Heavenly Father, thank you for the assurance of knowing that since the foundation of the world, you have ordained all things. Everything that happens is part of your sovereign plan. Allow the truth—that you loved me since the beginning of time and sealed your promises through the sacrifice of Jesus Christ, to melt away all the lies I've believed. May the work of Jesus on the cross remind me each day that you love me and are always working for me according to your good purpose. In Jesus' name, Amen.